Resources for writers
Books
Our favorite book on science writing remains "How to Write and Publish a Scientific Paper" by Barbara Gastel and Robert A. Day. Any edition is fine and sometimes the older books are only a dollar or two plus shipping. Our advice is that if you want to write well, it pays to read a lot — not just in your field, but any kind of good book, whether fiction or non-fiction. Any book by Ernest Hemingway is usually a good choice because he wrote in a clear, concise style applicable to academic writing.
In our opinion you learn more from deep reading of books than other kinds of sources. See also this recent article from The Washington Post on the death of reading.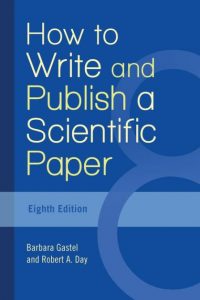 The following two books are not on science writing per se, but more general guidelines for writing in English. Recommended for writers in any field.
The Elements of Style by William Strunk Jr. and E.B. White
Economical Writing by Deirdre N. McCloskey
Here are two books we added just recently, if you've used them in your work please let us know what you think!
The Chicago Guide to Communicating Science by Scott L. Montgomery
Writing Science: How to Write Papers That Get Cited and Proposals That Get Funded by Joshua Schimel
Peer-reviewed literature
Ten Simple Rules for Structuring Papers. PLOS Computational Biology. 13(9): e1005619. https://doi.org/10.1371/journal.pcbi.1005619
Preparing reports for publication and responding to reviewers' comments. Guyatt G.H, Haynes B.R. J Clin Epidemiol. 2006 Sep;59(9):900-6.
Scientific literacy: Clear as mud by Jonathan Knight. Nature 423, 376-378 (22 May 2003) | doi:10.1038/423376a.
How to review a paper. Dale J. Benos, Kevin L. Kirk, John E. Hall. Advances in Physiology Education Published 1 June 2003 Vol. 27 no. 2, 47-52 DOI: 10.1152/advan.00057.2002
Other articles
Writing in the Sciences. By Ernest H. Williams. Revised by Tara McKee (2010) and Ann Silversmith (2012). From Hamilton College.
Science Writing: Some Tips for Beginners by By Jim Austin in Science Magazine. 
Websites
Duke Graduate School Scientific Writing Resource.
English Communication for Students: Unit 2: Writing Scientific Papers at Scitable by Nature Education.
Introductions and Conclusions for Scientific Papers at the George Mason University Writing Center.
The Mayfield Handbook of Technical & Scientific Writing. Hosted by McGraw-Hill Education.
When the Scientist Presents: Resources for the presenter scientist.
Writing for Science at the University of Leicester.

We are proud to be a member of National Association of Science Writers.
Disclosure: We are a member of Amazon's Affiliate program and earn a few pennies if you purchase a book using one of our links. This does not affect the price you pay.